I have had the pleasure of researching a lot of gardens gnome ornaments over the course of 2019 and want to share with you why I think the best ones are over the course of the year.
Sport
This genre is popular as many people love sport and want to show off their love for their favourite team by buying and displaying merchandise with their team's colors.
There are a number of great sports items on the market but there are a couple that stand out:
Tottenham Hotspur (Spurs)
Tottenham Hotspur are a football/soccer team who are based in north London and play in the English Premier League.
They have released a number of gnome figures over the years to show off their latest kit but I think that their latest version is particularly good as the kit/uniform looks particularly good and the design and paintwork is of a high quality.
Take a look at our more in-depth article on this here.
Seattle Seahawks
This is another item that we have covered via an extensive review in the past and I love this one as the expression on his face is extremely cute and the uniform here looks great.
There are also some great stories about this item having travelled around the USA and be people sending pictures back to the owner!
Check out the full review of this ornament here.
Funny
Many people love to places comical items in their yard or garden so that they can look at them and smile or show their friends and family when they visit. By their very nature, it is relatively easy to make gnomes look comical as people have developed their physical appearance over the years, since hey originally began to feature in stories, to what we know of them today which is to have the tall hat, long beard, rounds cheeks, large belly and boots.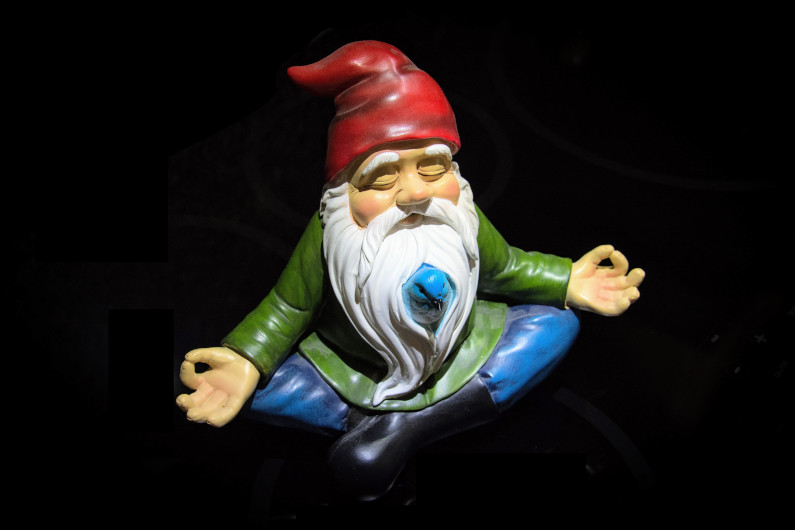 As everyone likes to laugh, it means that they sell well and where there are sales there are products so there are plenty to choose from but we have handpicked the best for you so that you don't have to spend your time trawling the internet to find them.
Take a look at our review of funny gnomes here.
Dinosaur
We have dedicated a whole article to this one as it is very different to anything else that we had seen before. I'm not aware of any strong link between dinosaurs and gnomes apart from them being associated with the past butte exact points in history with which they are associated is still very different!
Since we originally saw a dinosaur-based ornament we have seen a number of others appear on the market. This is a good indication that they are popular and it is easy to see why.
Combat
This type has risen to prominence over recent years and become extremely popular. I believe that this is due to the contrast of the typically cute features of a gnome, sub as the round cheeks, but belly and tall hat with an aggressive expression and stance. This makes them look comical and adds a lot of character to you're collection.
Take a look at our review of combat garden gnomes here.
Zombies
These are one of the most popular types of them as they are so different from your average ornament and zombies have such as dedicated cult following. People who are fans of zombies are very enthusiastic about collecting various forms of memorabilia and over recent years the zombie gnome has had a dramatic rise in popularity. Their design is so striking and they look so zombie-like that people feel that they add a great deal of personality to their back yard.
Having one based around such as a dramatic theme is a license to go wild with their creativity and it really shows with this genre.
Check out at our zombie gnomes here.
Fishing
One of the hobbies most associated with garden gnomes is fishing. I can only think that this is something that can be done outdoors and so is an easy association to make with them. Another positive thing with showing them fishing is that it's a very expressive hobby so these ornaments always look great. I think that there is something very relaxing about watching them fish.
Check out the amazing fishing gnomes that you can buy here.
Extra Large
Whilst the average size of a garden gnome ornament is around the 8 inch mark, there are some extra large ones which are more similar to their actual height as described and shown over the years in literature, pictures and on screen. We have actually written about the height of them in a dedicated article. You may be surprised about how tall they are!
You may be wondering why people would want an extra large one in their garden and the answer is that they have more of a presence in the yard than one that is of average height. It is also slightly unusual to have one that is much larger than the average height and will be visually impressive and will add diversity if you have an existing collection of normal sized ones.
Movies
These are a great inspiration for designs as they are extremely varied and people love to collect items based around their favourite ones. Seeing something unusual, such as a garden ornament, that is based around a film that you recognise is great fun and is exciting to share with others as well as to be able to post on social media.