I have received some feedback on my combat gnomes page with people asking if they can buy the gnome that is featured on there holding a Claymore mine.
Claymore mines anti-personnel devices developed for the United States army and were apparently made by Norman MacLeod and were named after a medievil Scottish sword.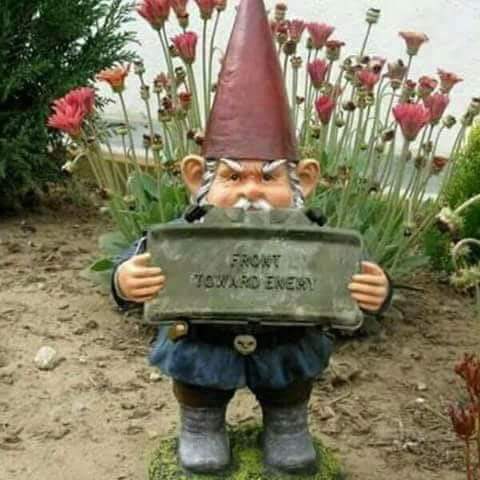 There are images online of this ornament above and I believe that this a custom-made piece that someone has posted. I'm guessing that this person has used an existing gnome ornament and combined this with a Claymore mine ornament and fused them together.
Where can I buy one of These?
I have been searching online for a while now and cannot find any retailers that sell this type of outdoor ornament with this device on it. Combat gnomes are particularly popular so it is surprising that no-one has jumped on this opportunity but I will keep looking out for this and will add them to this page if and when I come across some that you can buy.
If you are a seller of garden gnomes and have created a Claymore one and wish for us to feature it on this page please feel free to contact us via our Twitter account!
Similar Types That you can buy
These would fall under the category of "combat gnomes" and is one of the most popular categories that you can buy. We have a page dedicated to these which you may be interested in reading but, to give you a brief overview, these are military based ones and the figures are often holding a weapon of some kind such as an AK47 or flamethrower. I think that people enjoy the comical look of these figures holding such as devices with angry expressions on their faces. The combination results in a silly ornament in contrast to the usual jolly page that we are used to seeing their possess!